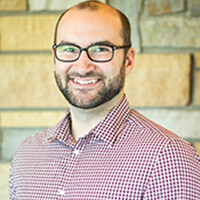 Campus Pastor
I was born and raised in Minneapolis. I grew up in a Christian home, and for as long as I can remember I have been following Jesus. Since I was a child, the two things I wanted in my life were to be a pastor and to be a father.
After graduating high school, I began my education to become a pastor. A couple years in, I decided to take a break and see if I would actually enjoy the day-to-day experiences of full-time ministry. I was invited to intern at the church I was attending and learned very early on that full-time ministry was what I was created to do. I absolutely loved working with volunteers and helping people connect with God and each other. After my internship, I was offered a full-time position overseeing weekend volunteers and the small group ministry.
Quickly after joining their staff, I met and married my beautiful wife, Amanda. I loved what I was doing, but after a long winter of 50+ days below zero, we packed our things and moved to Southwest Florida! I worked at a local church there, but when we found out we were having a baby, we decided to move back home to Minnesota to raise our son. In a single month, we moved across the country, became parents, and I started on staff at Eagle Brook! As the Pastor of Groups, I led small groups at the Coon Rapids campus and then at the Anoka campus. We also added our daughter to the mix at the same time as being invited to lead the Anoka campus. (I guess I like to make all of my major life changes all at once!)
I am a thinker by nature. I love reading, listening to podcasts, and learning theology. I am a dad through and through. When I am not doing the pastor thing, I am doing the dad thing—or sleeping.