Eagle Brook Online
Watch LIVE // SUNDAYS AT 9 + 11 AM (cst)
Heaven on Earth
Serving the Least of These
Bob Merritt
Responding to the poor is a very big deal to God, so it's a big deal to our church. But thinking about how to respond can sometimes feel overwhelming—what steps do we even take to help those who are suffering, sick, or in poverty? In this message, Senior Pastor Bob Merritt unpacks how simple it can be to serve and meet the needs of others. While it may take courage to step outside of our comfort zones, when we do, we are bringing Heaven to Earth.
heaven on earth

Giving to the Least of These
Jason Strand
The Bible says that we will be enriched in every way so that we can always be generous. That's a powerful promise, but do you believe it? Sometimes our own fears and insecurities dominate our lives, and generosity feels impossible. But now is the time to fight against these fears and remember that God gives us everything we need so that we can give to others. In this message, Pastor Jason Strand reminds us that when we live in this type of faith, our lives become the pathways to reach the least of these.
Connect with us
Whether you're watching from down the block or across the globe, we'd love to connect with you, answer any questions you may have, and help you find the resources or next steps you're looking for.
Learn More About Jesus
Following Jesus is the most important decision you'll ever make.
It's an opportunity to experience forgiveness, peace, purpose, and joy. When you decide to follow Jesus, you are given a fresh start and a new life.
LEARN MORE ABOUT following JESUS
If you've decided to follow Jesus, we'd love to celebrate with you!
We'd also like to offer you some resources to help you grow in your faith. Click below to tell us about your new relationship with Jesus!
Request Prayer
If you're struggling with a decision, battling sin, facing illness or heartbreak, or life simply feels overwhelming, we'd love to pray for you. And if life is going well and you're celebrating successes and joys, we'd love to praise God with you through that as well! Fill out the form below to submit your prayer request, and our staff will be praying for you.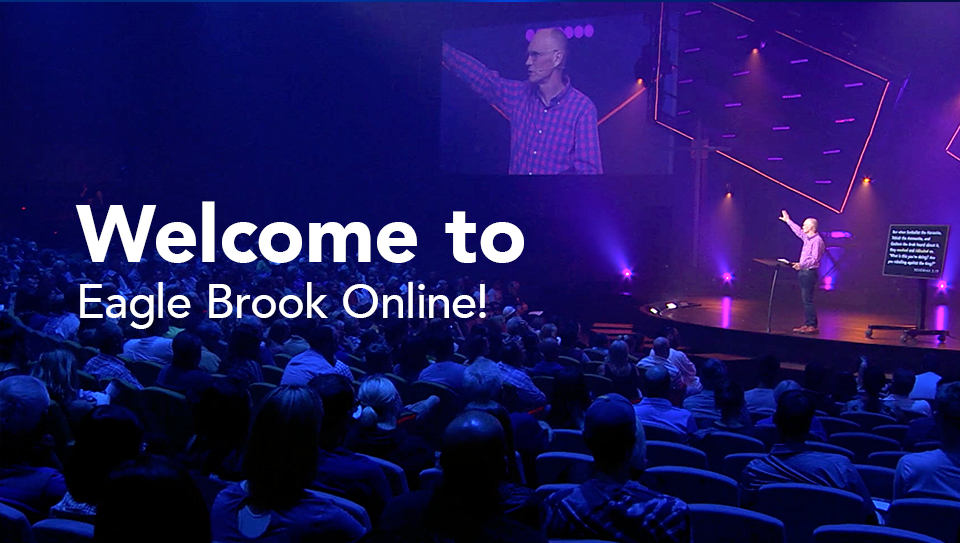 We're So Glad You're Here
Welcome to Online Church at Eagle Brook! We're so glad you're here. Eagle Brook exists to reach people for Christ—and that's the heart behind everything we do.
We hope you experience something today that speaks to you and that you walk away feeling both challenged and encouraged.
Support the Heaven on Earth Fund

God calls us to show compassion and care for those in need. For this reason, Eagle Brook partners with organizations in our communities and around the world that specialize in caring for those in need while strengthening the local church. These organizations have both the vision and the infrastructure to impact thousands of lives—and today, we have the opportunity to bless them financially.