A job at Eagle Brook is so much more than a job.
Our sole focus is reaching people for Christ, and along the way we laugh together, challenge each other and support each other like family. We'd love to meet you and hear your story!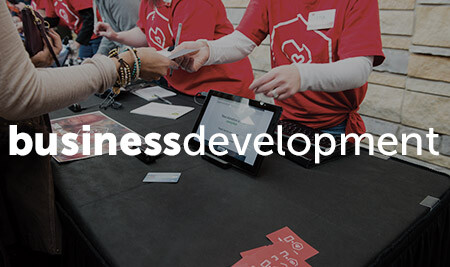 The heartbeat of the Central Office, the Business Operations Department keeps things running smoothly from all functional aspects. We couldn't do ministry without their knack for efficiency and passion for our mission.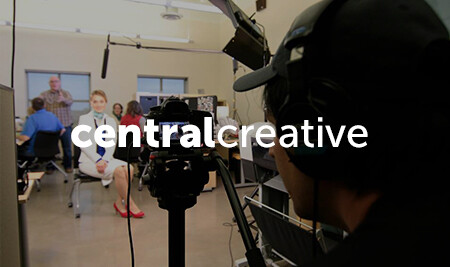 These artists tell the stories of Eagle Brook. They design, write, produce, manage and define the standard of excellence in the visual materials Eagle Brook is known for. They love using their talents to reach others for Christ.
OUR MISSION
Empowered by God to reach others for Christ.

OUR FOCUS
Eagle Brook is focused on three key areas: providing teaching, music and environments that are RELEVANT to people and culture; helping people experience TRANSFORMATION; and giving people the opportunity to take OWNERSHIP of their faith and their church as they grow, give and serve. Before we plan any weekend service, special event or ministry activity, we ask these questions: Is it relevant? Will it change lives? Will it give people the opportunity to take ownership?

OUR BELIEFS
Our nine core beliefs—about God, people, the Church, the Bible and Christ's return—are the foundation of this church. This is what we believe.
God
1. There is one living, sovereign God who eternally exists in three persons: Father, Son and Holy Spirit. (Rev. 1:8, Is. 43:10-11, Deut. 6:4, Matt. 28:19)
2. Jesus was sent by the Father to live on earth; he was fully God and fully human, yet had no sin. Jesus willingly laid down his life and, after three days, rose from the grave. In doing this, Jesus fulfilled the payment for the world's debt of sin. (Luke 1:31, 35, 1 Cor. 15:3, 2 Cor. 5:21)
3. The Holy Spirit was sent by the Father and Son to convict the world of sin and to empower all who believe in Jesus Christ. He lives in every believer and is a constant helper, Teacher and guide. (John 14:16-17)
People
1. God created people in his image, and everyone matters to God. (Gen. 1:26-27, Gen. 5:1-2)
2. All people are sinners and need God's forgiveness. (Rom. 3:23)
3. Those who confess and turn from their sin, trusting in Jesus Christ, will be saved by grace and become children of God, with the promise of eternal life. (John 3:16-17, Gal. 3:26)
The Church, The Bible and Christ's Return
1. Jesus Christ is the head of the church and all believing people are members. (Eph. 4:15-16)
2. The Bible is the inspired Word of God and is the supreme authority in all matters of faith and conduct. (2 Tim. 3:16-17)
3. Jesus Christ will return and there will be a final judgment. (Matt. 24:3, 37)
Who We Are
We are compelled, more than anything else, to reach people for Christ.
We are unapologetic about growth—we plan for it, anticipate it and go after it.
We take on big challenges that require big faith because it produces big results.
We crave feedback and tell the truth, good or bad, becuse it helps us get better.
We value the tension between humility and confidence.
We work hard, laugh as much as possible and get results.
We expect everyone to develop themselves and develop others for leadership.
We pursue simplicity because it keeps us focused on our mission.
We leverage teams, even when messy, because it gets the best results.
Eagle Brook Church offers the following benefits:
• Paid holidays
• Development opportunities
• Mission Trip Benefit
• Medical insurance for the employee and eligible dependents on the benefits effective date EBC pays 70% of the monthly premium
• Dental insurance is offered at a group rate with employees covering 100% of premiums
• Dependent Care Flexible Spending Account which allows an employee to contribute up to $5,000 pre-tax per calendar year
• 20% off tuition at First Discoveries Preschool
• Life insurance equal to one year's base salary, short- and long-term disability insurance effective the first of the month following one full calendar month of active employment. EBC pays 100% of the monthly premium
• Access to work-life balance employee assistance program
• 403(B) retirement plan after completing one full year of active employment, EBC will contribute 5% of the employee's base salary
• Paid Time Off (PTO) for full-time (40 hours per week) employees includes 20 hours on the benefits effective date and then accrual of 6.15 hours each pay period
• Paid Time Off (PTO) for limited full-time (30-39 hours per week) employees includes 16 hours on the benefits effective date and then accrual of 4.92 hours each pay period

Q: I just submitted my resume for a position. How will I know that it was received?
A: Once an application is submitted, a confirmation email is sent to verify that it has been received.

Q: Who reviews resumes?
A: HR partners with the hiring manager to review candidates' resumes to determine those who are qualified to move forward for consideration.

Q: How long should I wait to hear from HR?
A: HR strives to contact all candidates as soon as possible regarding the status of the position. Reviewing resumes can be a time-consuming process and EBC greatly appreciates the patience of all parties involved. The hiring process typically takes between 8 and 10 weeks. This time frame may vary depending on the requirements of the position and volume of candidates that apply.

Q: I wasn't able to add an attachment with my resume. What should I do?
A: The application system works best using Internet Explorer browser. If this browser is not working correctly, please contact us.

Q: Why can't I find the job that I applied for on the website?
A: Positions are generally posted for 1-3 weeks and removed when an adequate number of qualified candidates have applied. Once positions are removed from the website, the review process begins.
Internship Program
Eagle Brook Church's internship program is on hold for the Winter and Spring 2017 semesters, due to some role changes within our organization. Please check back at a later date.
Here are just some of the areas where you could work in Business Development at Eagle Brook:
• Finance & Accounting
• Human Resources
• Retail Services
• Facilities
• Campus Expansion
• Information Technology
• Administrative Support
Here are just some of the positions and teams that have a pastoral focus at Eagle Brook:

• Campus Pastor
• Campus Executive Pastor
• Serving Pastor
• Groups Pastor
• Kids' Pastor
• Students' Pastor
• Care Pastor
• Music Pastor
• Impact Ministries
Here are just some of the positions and teams that are part of Eagle Brook's Central Creative area:

• Communications and Marketing
• Project Manager
• Graphic Designer
• Media Production
• Creative Specialist
• Music Specialist
• Motion Graphics
Here are just some of the positions and teams that play a part in Weekend Services at Eagle Brook:

• Video Director
• Audio Engineer
• Service & Event Producer
• Lighting Engineer
• Music Team