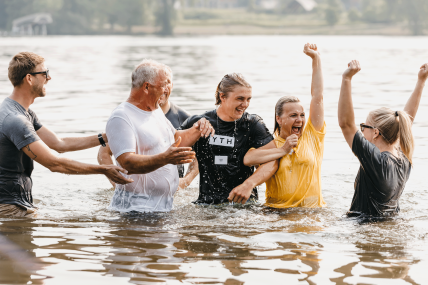 Baptism
Renewed. Refreshed.
Forever Changed.


Baptism is a public declaration of your faith and an act of obedience in your walk with Jesus. If this is your next step, we'd love to celebrate with you at an upcoming baptism. Baptism services are held twice a year (winter and summer).
Summer Baptism
July 9 + 10


Registration for Adults and Students
Find your location below to register. If that time doesn't work for you, feel free to choose one that does. We'll see you there!
Registration for Kids (Grades 2-5)
Kids can register to be baptized once they've completed 1st grade and have made a personal decision to follow Jesus. Parents: use this resource to help guide the conversation with your child to help determine if they are ready for baptism. If your child has made the decision to follow Jesus and wants to be baptized, follow the steps below!
Step 1

Watch the Baptism for Kids video with your child. We want to make sure that your kids understand what baptism is (and isn't) and why it's important.
Optional

Still have questions or want to meet with a Kids pastor from your campus? Our campus teams are here to walk with you and your child through these big decisions!
---
Step 2
Register for a baptism service. We'll see you there!
I'm Curious About Baptism


Have you ever thought about getting baptized but still have questions? We would love to help you understand a little bit more about this significant next step in your journey of following Jesus and answer some questions you may have.
Still have questions? We'd love to talk.
Get in touch with us here.