What happens when you shift your perspective?
How can two people be in the same situation but have entirely different attitudes about what they're experiencing? It all comes down to perspective. Your perspective determines whether you're hope-filled or hopeless. Confident or fearful. So what are you letting shape your perspective? It'll determine how you approach all the things that life throws your way.
Guest Speaker Kyle Idleman
June 26/27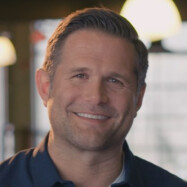 Kyle Idleman is a bestselling author and the senior pastor at Southeast Christian Church in Louisville, Kentucky, one of the largest churches in America. He's most widely known for his award-winning book, not a fan., which has sold more than 1.3 million copies and has sparked a movement among believers to ditch being fans of Jesus and become completely committed followers instead.
In his newest release, Don't Give Up, Kyle encourages us to cast our concerns on God. He reminds us that faith should give us the confidence to keep believing even when it doesn't make sense and the courage to keep going even when we face significant obstacles.
---
So what will you decide, in-person or online?!

in-person

Wherever you are in the Twin Cities or Rochester,
we're within a 20-minute drive.

Online

Wherever you are, we're there too.
Sundays | 9 + 11 am CST